Material dust cover: food grade PP screw cap inner food grade PP, surface food grade silicon gel nipple, straw, silicone sleeve.


Applicable age: Applicable to all stages of breastfeeding
Silicone feeding bottle

Characteristics of the pacifier: 
1. It has the function of stretching very softly at once, and the baby's tongue can perform the same free movement as sucking breast milk. 
2. It will not be damaged during breastfeeding, and it will be sucked regularly and regularly like breast milk.

3. The breast-like design allows the baby to open his mouth for the purpose of sucking movement.

Characteristics of the bottle:

1. The bottle body is designed according to the ergonomic 45 degree arc shape, easy to hold and easy to take, and the mother can conveniently control the breastfeeding posture, bringing a new experience of bottle feeding and breastfeeding for the baby.

2. Scientific air conduction system, reduce milk bubbles, avoid feeding troubles, baby sucking milk into smooth.

3. The bottle height borosilicate crystal glass material, safe high temperature resistance 600 °C positive and negative temperature difference 200 ° C does not contain bisphenol BPA wide mouth 44MM caliber easy to pour milk powder easy to clean environmentally friendly ink decal scale safety and health more design space sense.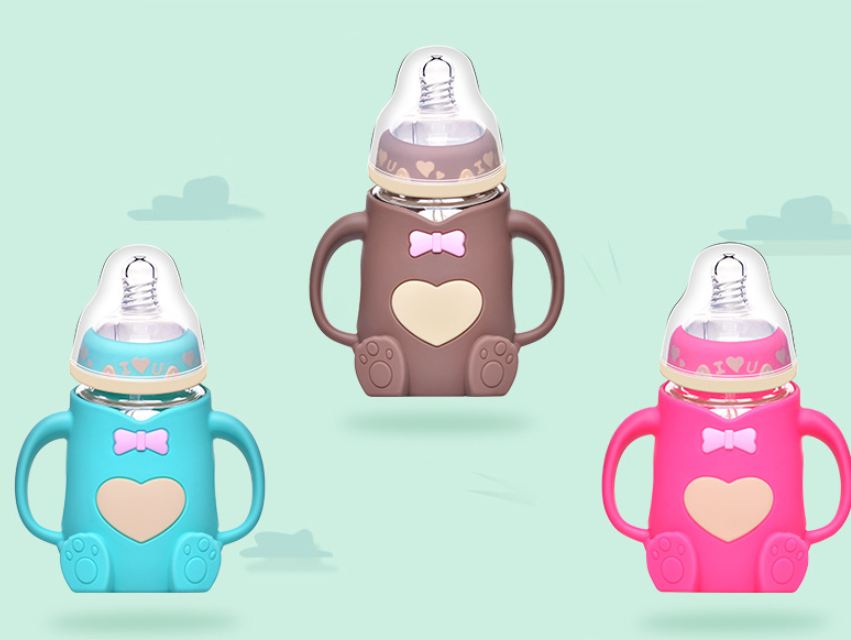 4. The nipple is made of food grade silicone material, breast milk texture anti-flatulence design and thread design, free to bend and stretch is conducive to the baby's oral development.

5. Gravity ball suction pipe: equipped with anti-flatulence pipette cover, regardless of the baby sitting or lying, you can suck.

6. Bear-shaped silicone protective cover: the use of food-grade silicone material, no bisphenol A, BPA and other harmful substances, can effectively prevent falling and explosion-proof, but also can be insulated, especially suitable for autumn and winter seasons, while the cute and cute shape is especially good for the baby. Attractive, you can exercise your baby's intellectual development, so that your baby falls in love!

Shipping Details
All orders need 1-3 days to fulfill due to high demand.
 Track your Order
Αfter the purchase and within two days you will be sent e-mail with your tracking number.
We are an American company based in the United States.For domestic orders within the US,we will attempt to ship from our local US-based warehouses.However,when items are out of stock domestically,we may place order from our international warehouses as a backup.
Shipping times
Usa premium shipping delivery 4-7business days for limited products!

Austria  6-10 business days
Australia 6-10 business days

Belgium 6-10 business days

Canada 8-12 business days
Switzerland 9-14 business days
Germany 6-10 business days

Denmark 6-10 business days

Spain 8-12 business days
France 6-10 business days
UK 6-10 business days
Greece 9-14 business days
Croatia 9-14 business days
Italy 6-10 business days
Netherlands 6-11 business days
Poland 6-11 business days
Portugal 9-15 business days
Sweden 6-10 business days
Slovenia 9-15 business days
Slovakia 9-15 business days
Turkey 9-15 business days
We are not responsible for any shipping deliveries that may be affected by customs, natural occurrences, transfers from USPS to the local carrier in your state or air and ground transportation strikes or delays, nor any extra fees, customs or back end charges once the package has exited the United States.
Please be aware that if we are shipping outside of the EEA you may be liable to pay import taxes and duties. These are set and regulated by the destination country and we have no control over these charges. If you are unsure whether your order will be subject to such taxes please check with your local import office.