Feeding bottle with handles
Safe in microwave, boiling water, dishwashers and sterilizers
Maximum temperature for bottle and nipple is 180 degree Celsius and 120 degree Celsius for cap and outer ring
Dual anti-colic vents prevent unwanted air-intake and reduce colic
Natural nipple shape makes it easy for baby to combine with breastfeeding!The Wide, breast shaped, soft, flexible, silicone nipple promotes natural latch on, so its easy to combine with breastfeeding.
Natural Feeding Baby Bottle is the most natural way to bottle feed. The wide breast-shaped nipple promotes natural latch-on so you can combine breastfeeding and bottle feeding. Our flexible spiral design combined with the comfort petals allow for a natural movement while baby feeds.
The Natural bottle design make it easy to combine breast and bottle feeding. The wide breast-shaped nipple with a flexible spiral tip and unique comfort petals make the nipple softer and more flexible to promote natural latch-on. The petals also reinforce the shape of the nipple to prevent it from collapsing in baby's mouth so your baby can feed contentedly and without interruption. The soft nipple design mimics the feel of the breast.
The ergonomic shape makes it comfortable for parents to hold and easy for small fingers to grasp. Assembly is simple, with only a few parts, and the wide bottle neck makes filling and cleaning easy.
The Feeding bottle is made from polypropylene, a BPA free material, and works with all nipples and caps from the Natural line. Dishwasher and microwave safe.
This bottle includes a 1Month+ Slow Flow nipple
BLOG:
 The world continues to change right before our eyes. But why is it that baby bottles are the same old unflattering tools? After all, isn't the baby bottle one of the first objects that your baby experiences through all five senses? Why should mothers have to worry about toxic plastic & colic-inducing design for something so basic & important? We found no good reason & decided to challenge the status quo. In our voyage, we've learned an important lesson. Inspiring products are born only when we think with a mother's heart & experience through a baby's eyes. We proudly introduce SpriderStore Natural-Feel Baby BottleTM. Baby Bottles feature innovative and sensible design to most closely mimic natural breastfeeding. Our naturally shaped, soft, silicone nipples are ideal for babies who have trouble transitioning from nursing to bottle-feeding. Your little one will love to hold onto the skin-like, soft and squeezable body that is like no other bottle in the world. And you will fall in love with our wide-neck design for brushless, stress-free, cleaning bliss! Our bottles are equipped with truly innovative vents that are smartly designed to prevent colic, while completely eliminating annoying leaks. They are quite possibly the most thoughtful bottles ever made.Easy Feedings, Happy Baby: - Naturally shaped, squeezable, soft, skin-like silicone – Ideal for breast-fed babies - Innovative & non-leaking anti-colic vents - Unique interlocking feature and no-drip design Easy to Clean: - Wide-neck design for easy, brushless cleaning - Safe in: microwave, boiling water, dishwashers and sterilizers.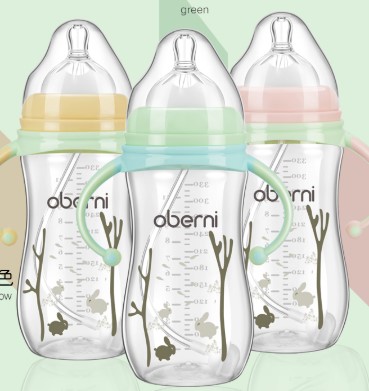 Shipping Details
All orders need 1-3 days to fulfill due to high demand.
 Track your Order
Αfter the purchase and within two days you will be sent e-mail with your tracking number.
We are an American company based in the United States.For domestic orders within the US,we will attempt to ship from our local US-based warehouses.However,when items are out of stock domestically,we may place order from our international warehouses as a backup.
Shipping times
Usa premium shipping delivery 4-7business days for limited products!

Austria  6-10 business days
Australia 6-10 business days

Belgium 6-10 business days

Canada 8-12 business days
Switzerland 9-14 business days
Germany 6-10 business days

Denmark 6-10 business days

Spain 8-12 business days
France 6-10 business days
UK 6-10 business days
Greece 9-14 business days
Croatia 9-14 business days
Italy 6-10 business days
Netherlands 6-11 business days
Poland 6-11 business days
Portugal 9-15 business days
Sweden 6-10 business days
Slovenia 9-15 business days
Slovakia 9-15 business days
Turkey 9-15 business days
We are not responsible for any shipping deliveries that may be affected by customs, natural occurrences, transfers from USPS to the local carrier in your state or air and ground transportation strikes or delays, nor any extra fees, customs or back end charges once the package has exited the United States.
Please be aware that if we are shipping outside of the EEA you may be liable to pay import taxes and duties. These are set and regulated by the destination country and we have no control over these charges. If you are unsure whether your order will be subject to such taxes please check with your local import office.